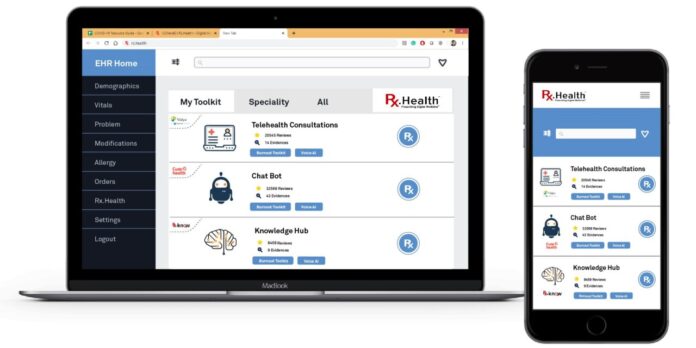 Dr Ashish Atreja leads digital health innovation at Mount Sinai, New York, where he helped outreach to 1 million New Yorkers during Covid crisis. Now, he is bringing same technology to India in partnership with Dr Devashish Saini and Rx.Health supported Health AAJ network.
On first look, the story of the two doctors quite similar. Both graduated from the premier AIIMS institute and went to the USA and got trained in medical informatics. Dr Ashish Atreja stayed in the US and now leads digital health innovation at Mount Sinai Health System, New York. He launched the digital platform where doctors could prescribe apps directly to millions of patients at once. During the Covid crisis, Mount Sinai spinout, Rx.Health, led by Dr Atreja, helped outreach to around 1 million New Yorkers to support digital and virtual care.
Seeing the Covid crisis in New Delhi and India, Dr Atreja and Dr Saini have now partnered to help launch the Health AAJ physician-led care network where hospitals and physicians will be provided license-free access to Rx.Health platform to support video visits as well as digital care programs across all specialties. The goal for Health AAJ to help fight Covid-related misinformation communicated through WhatsApp and other channels and amplify the trusted voices of physicians through digital channels. Health AAJ has also partnered with the pan-India non-profit Swasth app initiative to provide many of these digital programs for free.
"Our common goal is to bring the best digital health platform and digital monitoring across diseases to create first of its kind trusted virtual care physician network to deliver best possible care, to all those in need during this crisis. This network will also provide a unique public-private channel for physicians practicing abroad who have also been looking for best way to contribute to Indian ecosystem- whether it's through contributing knowledge of different specialties, collaborative research or providing second opinion services from abroad," Dr Atreja said.
"Ross Clinics mission is to make 'friendly neighborhood' trusted family doctor available to everyone in India. By supporting our physicians with best available digital care we will now have ability to touch millions of patients' lives and build a national most trustworthy collaborative care network. Last week alone, we prescribed Health AAJ preventive digital care plan to more than 10,000 patients in a day, something that seemed impossible till few months ago," Dr Saini said.
"Chronic diseases like diabetes, heart diseases and cancer require continuous education, and connected care at home. By providing digital health platform that supports education, behavior modification and monitoring for thousands and millions of patients without consuming physicians time, Rx.Health Aaj network provides resources that most of Indian physicians currently lack," Dr Kalra, senior consultant Bharti Hospital and President of Endocrinology Society of India said.
By providing digital care plans and remote monitoring across chronic diseases including diabetes, heart disease or cancer, Health AAJ is creating one of a kind physicians led and owned entirely virtual care ecosystem to bring the best digital health programs from across the world and deliver care through our partnership with top-notch physicians and leading health systems.
Ross Clinics has been founded by Dr Devashish Saini, an alumnus of the All India Institute of Medical Sciences (AIIMS), New Delhi. It is a chain of Multi-Facility Health Clinics, open All 7 Days a Week with a vision to build an enduring institution aiming to transform primary health care in India, with more than 100 clinics across India by 2022. Ross Clinics' mission is to Rejuvenate Primary Health care in India, delivering promotive, preventive, and curative services, and making health care accessible and affordable for Indian families and communities.
A spin-off from the Mount Sinai Health System, Rx.Health provides the first EHR-connected digital health prescription platform and formulary that enables care teams, pop health teams, and health plans to prescribe evidence-based mobile health applications, multi-media education, wearables, and therapeutics to patients at the point of care.