Brain functions are highly complex phenomena. With the help of technological advancements, various tools can assess and monitor various components and aspects of brain activity. These include devices that can directly measure brain functioning using electroencephalography (EEG) and those measuring brain functions such as sleep patterns, cognition, and gaze analysis.
Why brain imaging?
Brain imaging or neuroimaging is used to monitor and diagnose neurological conditions by exploring the brain's structure, function, or pharmacology. Physicians who perform and interpret neuroimaging in the clinical setting are known as neuroradiologists. Brain imaging is divided into the following two main categories: 
Structural imaging is done to visualize the brain's various structures and diagnose physical abnormalities such as tumors, bleeding, blood clots, or birth deformities. Structural imaging methods include Computerized Tomography (CT) and Magnetic Resonance Imaging (MRI).
Functional imaging is used to diagnose metabolic diseases and lesions on a finer scale, such as Alzheimer's. It is also used for neurological and cognitive psychology research. Functional imaging methods include Electroencephalography (EEG), Functional Magnetic Resonance Imaging (fMRI), Positron Emission Tomography (PET), and Magnetoencephalography (MEG).
Types of brain scans
Computerized Tomography (CT) includes a computer, which is used to construct the brain's images from a series of x-ray scans.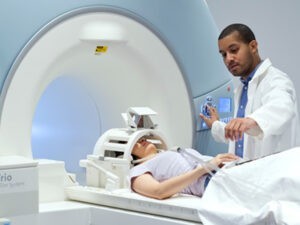 Magnetic resonance imaging (MRI) is useful to the field of psychology. MRI uses strong magnetic fields to create an image of the brain structure. MRI scans are noninvasive, pose little health risk, and can be used on infants and utero. One disadvantage of this method is that the patient has to hold still for long periods while the imaging is performed.
Electroencephalography (EEG) is used to demonstrate brain activity in individual psychological states, such as alertness or drowsiness. It is useful in diagnosing seizures and other medical problems that include an overabundance or lack of activity in certain parts of the human brain.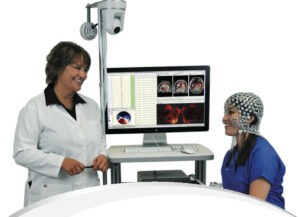 Positron emission tomography (PET) scans to measure the sugar glucose (active neurons use glucose as fuel) levels in the brain to illustrate the location of neural firing. PET scans are costly and invasive. These can be used in some forms of medical diagnoses, such as Alzheimer's.
Functional magnetic resonance imaging (fMRI) is a series of MRIs that measures both the structure and the brain's activity through computer adaptation of multiple images. The fMRI measures signal changes in the brain due to changing neural activity.
Global players in the brain imaging segment
Brain imaging technology and devices are dominated by players such as Natus Medical, Nihon Kohden Corporation, Philips Healthcare, GE Healthcare, Siemens Healthineers, Hitachi Medical Corporation, Shimadzu Corporation, Compumedics, Medtronic, CAS Medical Systems, Drägerwerk, Advanced Brain Monitoring, Masimo Corporation, Spiegelberg, Cadwell Industries, NeuroWave Systems, Nonin Medical, Integra Lifesciences Corporation, Neurosoft, and Rimed. 
The Impact of Covid-19 on the brain monitoring segment
The Covid-19 pandemic has led to a significant increase in the demand for remote monitoring and patient engagement solutions. Currently, most hospitals and healthcare facilities are trying to expand patient monitoring to home care settings or other temporary setups to provide optimal care. The healthcare industry has witnessed a significant surge in demand for ventilators and other respiratory devices than brain monitoring devices. The implication is that the pandemic is likely to adversely impact the brain monitoring business mainly due to hospitals' increased focus in setting up Covid-19 specific intensive care units. 
In the first quarter of 2020, the market witnessed an increase in demand for certain essential technologies essential to Covid-19 response, including computed tomography (CT), respiratory devices, monitoring solutions, x-ray devices, anesthesia, and point-of-care ultrasound products, among others. However, also observed is a decline in demand and delays in the procurement of products and services that are not critical to Covid-19 response efforts or procedures such as magnetic resonance imaging, nuclear imaging, and electroencephalography. 
Besides, surveys reveal that many, if not most, hospitals have temporarily canceled elective neurology procedures to reduce the risk of exposure to doctors, clinicians, staff, patients, and to conserve resources to accommodate a surge of Covid-19 patients only. The Covid-19 pandemic is driving uncertainty in global markets, leading to other supply chain and logistics costs. It is expected that this fluctuation or partial disruption in market growth could extend to the next few quarters.