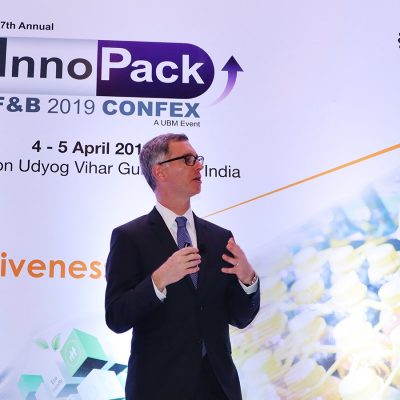 Founded in 1949, Michelman is a coating company that describes itself as a developer and application specialist of sustainable and water-based surface technology. With a turnover estimated at below US$ .5 billion and about 350 to 400 employees worldwide, it maintains production facilities in North America, Europe, and Asia. Additionally there are product development and technical service centers in several major global markets, including the Michelman Innovation Centre for Coatings in Mumbai that opened in January 2018.
The company was represented in the country earlier by a distributor. Still, once it decided to enter the country, it moved quickly. It set up a novel and sophisticated innovation center in Mumbai open to application and prototype development for packaging substrates to the industry.
In early June, the company announced that in January 2022, Rick Michelman would take over as its president and CEO, while Steve Shifman, who has shepherded the company for the past 18 years, will become its executive chairman. In a web interview with Shifman, Michelman, and the company's managing director in India Shailesh Nema, we discussed the transition.
Apart from discussing the smooth passing of the baton to the competent next-generation leadership, Schifman and Michelman both seem pleased with the application development of new packaging substrates at the MICC incubator in Mumbai. While Shifman pointed to the rapid turnaround time of new applications at Mumbai, Michelman suggested that while the center was initially seen as a way of bringing in technology, now it seems that applications or structures developed and tested there are finding use in other markets.
What came across in our circular interview were really just two or three simple things – that the family-owned company is in a good place for growth and that it is confident of handing over the next stage of growth (which could be substantial – in the next decade) to one of its members from the next generation. It helps that Dr Rick Michelman is a chemist by education and practice and a part of the professional management team for several years now. Nema suggests that Rick Michelman's activity and leadership in the Asia Pacific operation of the company bodes well for the continued growth and viability of the Indian and South Asian operations.
Michelman – family-owned with passion for sustainability
The Michelman company sets great store by its ideals or values, as its leaders call it. Roughly, this means integrity, trust, fair dealing, and a genuine interest in the business of science and sustainability. Michelman mentions science and sustainability as a part of its unwavering values and motivation as a company. The company's entry to India was timely in the 2016 to 2018 timeframe – as the government recognized the need for coming up with a waste control order for the packaging industry. As regulation comes, the industry itself will have to match its appetite for rapid growth with recyclable materials and sustainable systems.
Apart from digital printing and packaging, Michelman is also a supplier to the agricultural ingredient, architectural and industrial coating, polish, reinforced plastics, and technical textile industries. While all of these seem poised for growth, Rick Michelman, who takes over as CEO and president from 1 January 2020, said, "In India, packaging will remain our primary area of interest. We brought solutions into India, and now solutions are coming out of India – because of the rapid turnarounds of innovations there. We can focus on sustainability in three major areas – lightweighting, the circular economy, and the elimination of solvent-based chemistry." He added, "We don't know everything, but we are committed to science." As far as the transition in leadership, he says, "It's not just about Steve or me, it's about the team that we have built up around us."
In early 2018, the MICC stood out as being timely (along with a couple of other industry initiatives) as a real-world action – motivated by the passion for environmentally conscious innovation. At its inaugural function in January 2018, Shailesh Nema said, "With this investment, brand owners can walk into our premises and come up with new structures. Converters do not need to use their assets meant for production – for doing their experimentation. Instead, they can use our center to come up with prototypes, test the barrier properties and present the solutions to their customers."
Nema added, "We are sensitive that everybody in the world wants more sustainable and greener solutions but also that no one wants to pay a high premium for these and at times no premium at all. Hence, we are committed to meet this challenge as well, to help our partners come up with solutions of value that meet compliances cost-effectively— greener but viable solutions."
Having met Rick Michelman at an industry food packaging conference in Gurgaon before the pandemic, we are aware that the company, on the whole, maybe looking to him for next-stage leadership and growth in several segments. However, he and Nema assured us that for Michelman, although in India too, new areas are being explored, packaging will remain its central and main project. And as Shifman said, "We see this orderly transition as a signal of stability. We are not in a hurry."