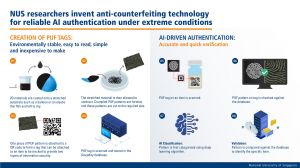 Researchers from the National University of Singapore (NUS) have invented a new method of anti-counterfeiting called DeepKey. Developed in just eight months, this security innovation uses two dimensional (2D)-material tags and artificial intelligence (AI)-enabled authentication software.
Compared to conventional anti-counterfeiting technologies, DeepKey works faster, achieves highly accurate results, and uses durable identification tags that are not easily damaged by environmental conditions such as extreme temperatures, and moisture, says the research team.
This new authentication technology can be applied to different high-value products, ranging from drugs, jewellery, to electronics. For example, DeepKey is suitable for tagging COVID-19 vaccines to enable rapid and reliable authentication, even if the vaccines need to be stored at the ultra-cold temperature of -70°C.
The team's 2D-material secure tags exhibit Physically Unclonable Function patterns (PUF patterns), which are randomly generated by systematically crumpling the 2D-material thin films. The complex 2D-material patterns with multi-scale features can then be classified and validated by a well-trained deep learning model, enabling, quick, reliable (100 per cent accurate) authentication, they say.
Current anti-counterfeiting technologies using PUF patterns normally face several bottlenecks, including complicated manufacturing, specialised and tedious readout process, long authentication time, insufficient environmental stability, as well as being costly to make, claims NUS. The researchers say they do not need any special equipment to create the secure tags. They can simply be made with a balloon, a bottle of 2D-material dispersion, and a brush.
"With this research, we have tackled several bottlenecks that other techniques encounter," said team member Asst Prof Wang Xiaonan. "Our 2D-material PUF tags are environmentally stable, easy to read, simple and inexpensive to make. In particular, the adoption of deep learning accelerated the overall authentication significantly, pushing our invention towards practical application."
"With our new technology, we are breaking this long-lasting trade-off between high encoding capacity and long authentication time by using classifiable 2D-material PUF tags and deep learning algorithms," added Wang.
The researchers published their results in scientific journal Matter on 2 December 2020 and have applied for a patent. This study was conducted in collaboration with researchers from Anhui University of Technology and Nanyang Technological University.
Smart Packaging Solutions Virtual Congress -19 March 2021
The Smart Packaging Solutions for India and South Asia Virtual Congress on 19 March focuses on food and pharma supply chains, brand security, and sustainability. Organized jointly by IPPStar and the AIPIA, the virtual congress's topics include brand authentication, condition monitoring, and active and intelligent packaging that contributes to the safe delivery of authenticated products leading to safety, security, and customer engagement. Please look at the agenda of the conference here, and for registration, please click here. You can also email Ruchi at conference@ippgroup.in or Umesh at subscription@ippgroup.in. Call us in Noida at 120-4546988 or 4326053 – Umesh at Xtension 30; Ruchi at Xtension 33; Gaurav at Xtension 23; and Mohit at Xtension 25.