In India, extensive facilities such as NESCO, the Bombay Exhibition Centre in Goregaon are being transformed into vaccination centers just as they have been worldwide. The BEC was also used to temporarily house 10,000 migrant workers at the beginning of the Covid-19 induced lockdown last year. Media Expo Mumbai, scheduled to take place at the NESCO in March, has been rescheduled for May. Its organizers, Messe Frankfurt India, are hoping "that with the start of vaccination drives and gradual scaling back of lockdown, we also see confidence returning in the market, and Media Expo will act as a catalyst in the recovery of trade momentum for this sector." Whether NESCO will be available for trade fairs by that time remains to be seen, given the substantial logistical implications of the vaccine set-up there as much as elsewhere.
When the Covid-19 pandemic started to get out of hand last year, one major trade fair after the other had to be canceled, leaving the world's exhibition grounds deserted, turning some of these into emergency hospitals for Covid patients. Many of these facilities are still being kept on stand-by or converted into testing or vaccination centers.
ExCel – London
One of the first exhibition grounds to be entirely requisitioned for medical purposes was London's ExCel. The British Army installed 4,000 hospital beds at the height of the pandemic's first wave hitting the UK. Soon after, Birmingham's NEC was to follow with another 4,000 beds. Both are now part of England's National Health Service Nightingale network of seven exhibition grounds, stadiums, and convention centers converted into emergency field hospitals. Most of these facilities are currently not in use, but they are maintained and kept on stand-by.
Javits Convention Center – New York
One of the first exhibition grounds to be turned into an emergency hospital in the US was the Javits Convention Center in New York. In the heart of Manhattan's 'Hell's Kitchen' neighborhood, the Center used to be Book Expo America's main venue. Installed by the US Army Corps of Engineers, the Center's 2,910 beds remain useful to relieve the city's hospitals from non-Covid and convalescent patients.
In addition to smaller facilities for testing and hospitalization under tents, such as the one in New York's Central Park, the Army Corps installed medical facilities in other exhibition and convention centers capable of accomodating hundreds or thousands of hospital beds. A typical example is the Wisconsin State Fair Park and Expo Center, serving as a stand-by hospitalization facility for deployment in the country's vaccination campaign.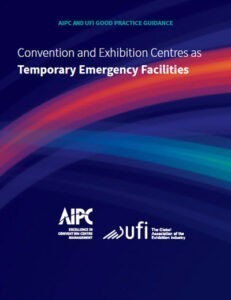 Messe Wien – Vienna
In Europe, Messe Wien, conveniently located in Vienna's city center, was the first trade fair center to be converted into a medical facility with 2,240 beds back in March last year. Currently, it serves as Austria's largest Covid-19 testing facility. Fiera Milano, one of the world's largest fairgrounds, followed by turning two of its exhibition pavilions into an emergency hospital to relieve the hospitals in the Milan and Lombardia region.
UFI, the Global Association of the Exhibition Industry, quickly responded with a good practice guide for 'Convention and Exhibition Centres as Temporary Emergency Facilities' updated regularly.
Brussels Expo – Brussels
Brussels Expo, which is to host Label Expo in September this year, still had high hopes, a few months ago, that it could open its doors for one of Europe's largest car shows in January. The show was canceled, but Brussels Expo's senior management invested heavily in a unique UV-C disinfection system installed in all of its exhibition and concert halls, conference rooms, and working spaces. In October last year, one of its halls was turned into a Covid-19 test center. Another hall, the largest, is currently being prepared to become Belgium's largest vaccination center, opening its doors from 15 February.