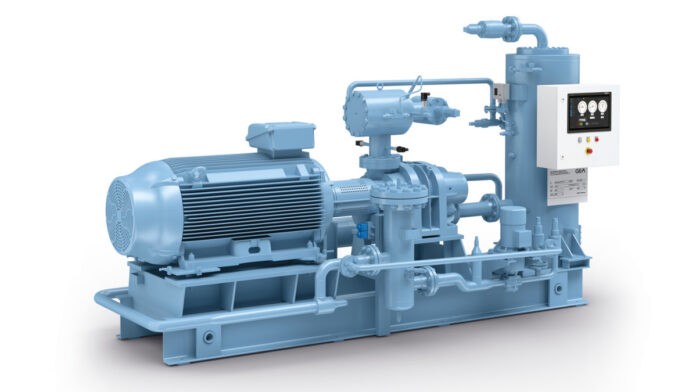 Gea has launched a screw compressor package series specifically designed for high-pressure applications. The new Gea Grasso SP1 HP is suited to heat pumps using ammonia or low-temperature cooling with CO2.
Widest application range in the industry
According to Gea, the unique high-pressure series is based on 20 highly efficient Gea Grasso compressor models for NH3 heat pumps and 17 models for CO2; together, they provide the largest portfolio scope industry. Heating capacities with ammonia cover a range from approximately 600 kW to 9,500 kW (heat sink supply temperature 70°C at 30°C evaporation and 10 K subcooling), CO2 refrigeration capacities range from 400 kW to over 4,000 kW (at -50/-5°C).
The specific high-pressure design of the robust Gea screw compressors is suitable for high differential pressures allowing NH3 condensing temperatures of up to +85°C and combined cooling and heating operations. CO2 cooling is possible as low as -54°C. The maximum (subcritical) condensing temperature level is +10°C allowing operation modes for defrosting processes temperatures above 0°C.
Well-proven equipment based on long-term experience
Gea said its Grasso SP1 HP series has been developed using Gea's ever successful SP1 line principles. Well-established components are individually configured for each project using proven and tested modules mounted onto a stable base frame offering an efficient and robust set-up. Many decades of refrigeration, and nearly 15 years of heat pump and CO2 experience, have helped transform the previously customized units into the new standard high-pressure Gea Grasso SP1 HP series making it the logical #1 choice for all relevant applications.
Sustainability and efficiency are future-proof investments
Natural refrigerants, such as ammonia and CO2, already prevail in most countries. The F-gas regulations make their widespread use globally inevitable. The high volumetric efficiency, particularly of NH3, saves energy, thereby reducing (electric) power expenses and carbon emissions. Environmental protection and sustainable plants are essential concerns for both Gea and its customers. Gea's efficient equipment makes a fundamental contribution to a future-proof installation.