Okapi Pharmacy, a wholly-owned subsidiary of Toppan Printing, a global leader in communication, security, packaging, décor materials, and electronics solutions, has announced the launch of Todokusuri Express, a service for delivering prescription medicines to patients through Todokusuri Yakkyoku, a newly opened (1 July 2020) pharmacy.
Okapi Pharmacy was established in October 2019 as a wholly-owned subsidiary of Toppan Printing. Todokusuri Yakkyoku is a pharmacy run by Okapi Pharmacy that provides a range of services, including Todokusuri, which was launched as a beta version in March 2020 to enable patients to consult pharmacists and receive prescription medicines without leaving their homes.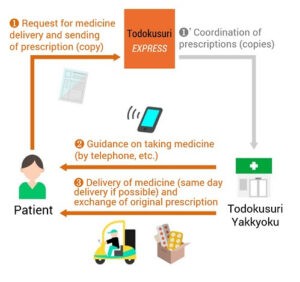 According to the press note, Todokusuri Express responds to the new normal's needs by facilitating prompt delivery of prescription medicines in support of the growth of medical consultation via telephone or the Internet. After consultation with a doctor, patients go to the Todokusuri Express website to enter the necessary information and request delivery of the medicine prescribed. The medicine is then promptly delivered from Todokusuri Yakkyoku to the patient's home, with same-day delivery when possible.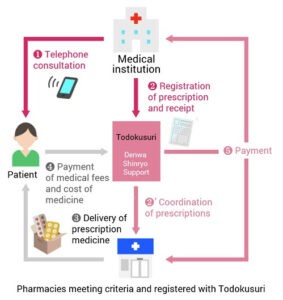 A related service for medical facilities, Todokusuri Denwa Shinryo Support (todokusuri telephone consultation support), makes it possible for patients to combine payment for medicines and medical treatment into a single transaction and reduces risks associated with collection of medical fees. No special tools or apps are required to introduce the payment service. It is hoped that the convenience provided will help increase the number of medical facilities able to provide remote consultations. A function providing web-based booking forms for telephone and online appointments with each medical institution is scheduled to be added to the service in October 2020.
The Todokusuri Express service will initially be limited to Tokyo's Taito ward and parts of the Chiyoda, Chuo, and Sumida wards served by Todokusuri Yakkyoku, with further expansion planned in the future.
"These new services provide convenience for patients and medical professionals by addressing previous challenges like slow delivery times and increased workload," said Okapi Pharmacy's president Tatsuichiro Kurashige. "They support efforts to expand pharmacy services that can be accessed from patients' homes and play an important role in enabling a new normal as we navigate the spread of Covid-19 infection. Going forward, we will leverage user feedback to enhance offerings and contribute more to medical care and pharmacy services in support of a wide range of stakeholders."