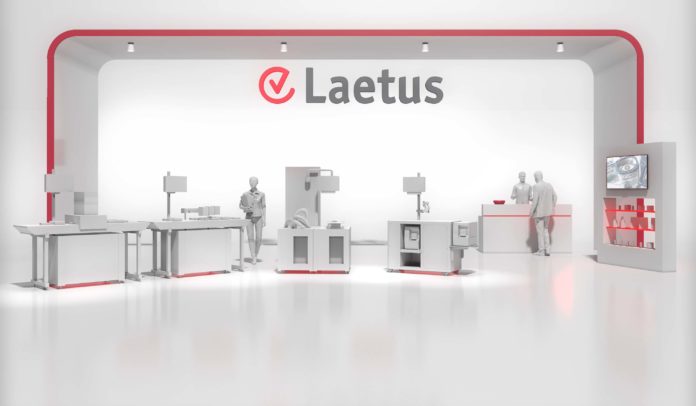 On 7 May, Laetus opens an online showroom with numerous stations and informative videos along the process chain. Regardless, the postponed trade fair Interpack, visitors gain exciting insights into the latest solutions from the world's leading track & trace specialist, the company said in a press statement. One of the highlights is the fully automatic serialization system Modular X.
Laetus presents current solutions for the entire supply chain on the Internet, from inline quality control to the end customers' engagement. Alongside the Modular X series, many further innovations are presented in the areas of vision inspection, device management, aggregation and track & trace. At each virtual station, a short film can be watched, explaining the respective system.
Fully automatic serialization
The Modular X series is the first fully modular serialization system on the market. It convinces with its unique flexibility regarding the packaging sizes to be processed. The Modular X 1000-MV forms the basis, marking and verifying up to 400 folding boxes per minute with barcodes or plain text, depending on product size and quality. At belt speeds of up to 60 meters in a minute, a mechanically forced guidance ensures that the secondary packaging with a maximum size of 120 x 100 x 200 mm is precisely processed. The compact GMP design allows for easy operation, cleaning and maintenance.
Flexibility for changing market requirements
Format changes are fully automated and, therefore, reproducible, and they can be carried out in less than 60 seconds. This reduces refitting times and hazards of operator errors to a minimum, and it enables companies to react quickly to changing market requirements at any time while operating at a constantly high production output. The optionally available Tamper Evident module Modular X 1000-TL furthermore applies up to 400 Tamper Evident labels in a minute on two sides. The labels are applied at four possible positions (front or rear opening, top or bottom respectively) with an accuracy of 1 mm, which is also checked automatically. The electronically controlled high-speed ejection makes sure that incorrectly marked products are discharged.
On view from 7 May 2020 in the Laetus online showroom.