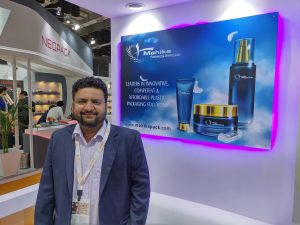 Mumbai-headquartered plastic packaging solutions provider Mahika Packaging is looking to expand further into the pharmaceutical packaging segment, company's director Amit Gupta said during the Cosmoprof India show that was held in Mumbai from 12-14 June. At present the majority of the company's business comes from the cosmetic industry.
"The majority of our customers are in the cosmetics industry from which we generate almost 80% of our business while the remaining is derived from the pharmaceutical segment. Our aim is to take the share to 30% in the next few years," Gupta said.
Mahika Packaging operates in five verticals, namely seamless tubes, laminated tubes, labels, bottles, and caps. In the seamless tubes segment, the company manufactures tubes of a single layer to five layers with volume ranging from 5 ml to 300 ml. The company has recently ventured into the manufacturing of laminated tubes.
It manufactures HDPE, LDPE and PP bottles ranging from size 5 ml to 1000 ml. In the caps segment, Mahika Packaging manufactures flip top caps, screw-on caps, bi-color flip top caps, tamper-proof caps and metalized caps.
At the Cosmoprof India show, the company showcased all its solutions with special focus on new solutions such as 359-degree printing, invisible seam and textured effects. According to Gupta, the response at the show was excellent.
"We have been participating in Cosmoprof Las Vegas but it was last year that we exhibited at Cosmoprof India. We got a very good response and that is why we decided to come back again this year," Gupta said.
Cosmoprof India, launched last year in Mumbai, is a business-to-business event for the fast-growing beauty market in India. It is organized by Bologna Fiere, one of the leading international exhibition organizers and UBM India. Along with Mumbai, the trade show takes place in major global cities of Las Vegas, Bologna and Hong Kong.
Robust growth in cosmetic packaging
With rising disposable income in India, demand for cosmetics and beauty products has been growing fast in the last few years. Gupta believes that this trend will continue and will consequently fuel the demand for cosmetics packaging.
"Apart from established brands in the cosmetic and beauty product segment, there have been many new independent brands that have become popular in India in the recent past. Also, retail chains have launched in-house cosmetics brands and so have leading pharma brands. All these developments have fuelled demand for cosmetic packaging. I feel this trend will continue as our economy grows," Gupta said.
Focus on lead time
Mahika Packaging has three manufacturing facilities in western India and caters to customers pan-India. It has a large number of customers overseas mainly in North America and Europe. Exports constitute about 20% of Mahika Packaging's business. The company is now looking to build capacity in order to maintain lead time.
"Our target is to have a strict lead time and in last few years we have invested almost Rs 40 crore in our plants and machinery to boost capacity so that we maintain the lead time. We will continue to invest in capacity," he said.
Asked if the company has plans to set up manufacturing facilities in other parts of India, Gupta said that it will not be required due to the GST regime being in place.
"Since GST is in place it does not make sense to set up plants anywhere else at this moment. We can manage the three plants better from our head office in Mumbai. Transportation is not an issue. If we need to boost capacity, we will invest in the existing plants to increase capacity," Gupta concluded.