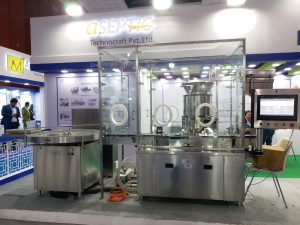 Ahmedabad-based NKP Pharma designs and manufactures advanced packaging machinery for the pharmaceutical injectable manufacturing industry. The 32-year-old company has become one of the industry leaders in India. Speaking about the company, NKP's sales manager Prasad Kamath says, "We are the pioneers of packaging machinery for injectable drugs, especially powder and liquid drugs that are filled in vials and ampoules. We produce entire packaging processing lines starting from washing equipment to labeling machines. We also provide track and trace solutions for complete pharma supply chain management."
The wide range of solutions includes packaging lines for injectable liquid and powder drugs to be filled in vials such as washing machines, filling and sealing machines, inspection machines, and labeling machines. Its track and trace solutions have components such as carton barcoding machines, parent-child relation aggregation units, including software where one can upload data on the cloud for the particular target market.
Latest technology and automatic machines
The pharma industry faces significant challenges as multiple regulatory norms such as WHO, PIC/S (Pharmaceutical Inspection Co-operation Scheme), USFDA, and several other agencies require compliance while executing and practicing aseptic processes. Each market has different norms and guidelines. Kamath says with some pride, "Our machines are highly automated with the latest technology and features. For example, our filling machines feature inline weighing."
On the challenges that the pharmaceutical industry faces, Kamath admits, "The first challenge in the industry is pricing that brings competition in the market. The second challenge which all the manufacturers generally face is technology. We can proudly say that all our machines are built to comply with the most stringent standards across the industry and are rugged in performance and stability."
Strong R&D
The company claims to have a strong R&D team with production lines adhering to international quality standards. It follows the working standards of the engineering industry, according to the Current Good Manufacturing Practice (CGMP) regulations. According to Kamath, the research team's mandate is to introduce complete automation to reduce manual intervention, ensure data integrity, and to do away with redundancy while lowering costs. Automation helps to save time as well as minimizing the involvement
of operators in sterile areas. Benefits include productivity improvements by increasing yield and reducing wastage of costly raw material. Overall, these practices help in providing cost-effective, technological support to pharma manufacturers.
Aiming at global leadership in injectable packaging
According to Kamath, NKP's machines are reliable and operator-friendly while complying with all the necessary market guidelines. "We are aiming to become the pioneers in the world in supplying injectable packaging machinery by 2025. We already have a footprint of 8,000 to 9,000 machines across the world in over 35 countries. We can proudly affirm and even boast that we have satisfied customers in India and overseas," he shares.
He concludes, "Our competition is no longer with the Indian manufacturers or local technology. Although at par with technologies manufactured by the Europeans and the Germans, we nevertheless shall ensure to keep our pace, by maintaining our machine standards while at the same time being the most cost-effective."