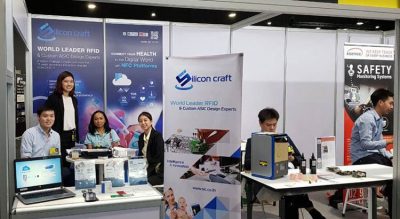 Silicon Craft Technology, based in Thailand, is well placed to understand the 'Asian Experience' of Smart Packaging technologies. In his presentation, Chayasorn Suansomjit will explain how his company is helping to exploit the huge increase in online, as well as in-store consumer experiences.
In addition to authenticating the products, big Brands are excited by the possibilities offered for direct consumer engagement. QR codes and RFID/NFC tags can deliver messages, product information & tips, offers, loyalty programs, etc. – helping to build Brand awareness and differentiate products from the competition. In addition, there is the opportunity to gather valuable marketing and consumer data from this interaction.
As online shopping becomes more popular everywhere, the engagement and loyalty of online consumers become a key factor in modern marketing strategy. NFC-enabled packaging along with ubiquitous Android and iOS devices shine as a convenient way to initiate two-way communication with online consumers as well as provide peace of mind proving product authenticity under a unified solution.
Recent research by Mintel indicated that the use of on-pack QR codes increased by 83% in just four years and over 9% of all CPG launches in the APAC region had a code, the study showed. A spokesman said Smart Packaging is increasingly used 'to bridge the information gap between the physical and digital worlds.' Generally, Smart Packaging is seen as a 'must have' by the Smartphone Generations.
Likewise, the proliferation of packs with RFID /NFC codes is gathering pace all across Asia, according to Silicon Craft. India and South Asia are markets with huge potential to use both QR codes and RFID/NFC tags. One of the advantages of tags, explains Suansomjit, is their ability to offer more features, such as product verification as well as identification.
"With costs of production down and levels of service and sophistication up, it is a good time to show how these technologies can add value in the India and South Asian markets," added Suansomjit.
Smart Packaging Solutions Virtual Congress -19 March 2021
The Smart Packaging Solutions for India and South Asia Virtual Congress on 19 March focuses on food and pharma supply chains, brand security, and sustainability. Organized jointly by IPPStar and the AIPIA, the virtual congress's topics include brand authentication, condition monitoring, and active and intelligent packaging that contributes to the safe delivery of authenticated products leading to safety, security, and customer engagement. Please look at the agenda of the conference here, and for registration, please click here. You can also email Ruchi at conference@ippgroup.in or Umesh at subscription@ippgroup.in. Call us in Noida at 120-4546988 or 4326053 – Umesh at Xtension 30; Ruchi at Xtension 33; Gaurav at Xtension 23; and Mohit at Xtension 25.