Coding and marking enterprise Linx Printing Technologies has launched its new Linx Yellow bottling ink 1088 to meet the demands of customers who require a high contrast code on dark coloured bottles. These bottles are usually returned from the marketplace and cleaned in a caustic wash process, typically used for returnable bottles before refilling and coding.
The new fast-drying ink is said to be specially formulated to provide excellent adhesion on glass and to withstand the manufacturing process, packaging, and condensation. The ink delivers clear, legible codes onto glass and keeps adhesion in cold-room condensation conditions. There is no compromise on the quality of the code – the ink delivers high-quality, durable coding so that customers can meet the regulations and protect their brands.
The new Linx Yellow bottling ink 1088 has been specifically developed for the company's market-leading Linx 8900 and 8800 Series continuous inkjet (CIJ) coders and is a pigmented ink.
The new ink is also suitable for a weak caustic wash process to remove codes on steel, nylon, and PET kegs and barrels.
"We are delighted to introduce this new ink, which complements the Linx Black bottling ink 1068 launched in 2018," said Simon Millett, Linx product manager for Inks. "Due to the ink's fast dry properties, the printed code resists refrigerator storage and immersion in water, making it ideal for beverage applications like beer and soft drinks. In addition to providing a high contrast code on dark brown and green bottles, the new Linx Yellow bottling ink 1088 is also suitable when a more unobtrusive code is needed on clear glass bottles."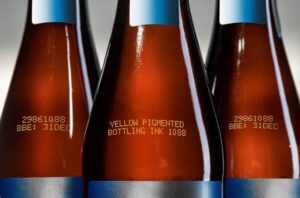 Linx Printing Technologies is a leading global supplier of continuous inkjet (CIJ) printers, case coders, laser coders, thermal transfer printers, and thermal inkjet printers. Its printers and coders are used across many different industries where product identification codes, batch numbers, dates, and barcodes are required.
All Linx products are designed with a low cost of ownership in mind and are distinguished by reliability, robustness, and ease of use. Linx products code and mark millions of items every day, ranging from bottles, packages, and cans of consumer goods to pharmaceutical products, cabling, electrical components, and car parts.