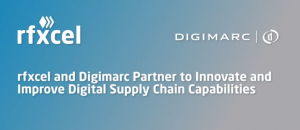 rfxcel, a US headquartered digital supply chain traceability solutions provider and AIPIA member Digimarc, which offers software and services for automatic identification, have announced a partnership to provide a digital supply chain solution for track and trace, brand protection, personalized consumer engagement and sustainability.
The partnership will utilize the Digimarc Barcode, in support of rfxcel's Traceability System (rTS) and mobile traceability app. The Barcode enhances packaging, labels, corrugate, and other materials with data that can be detected by devices such as phones, computers, scanners, etc. Data is redundantly applied across an entire product package or label, helping to increase scanning speeds. The rTS platform enables serialization, compliance, Internet of Things (IoT)-enabled monitoring, plus raw materials and finished goods traceability. The app adds unique data capture features, it says.
rfxcel has integrated Digimarc's data capture software into rTS and its Mobile Traceability app, enabling accurate, complete, and timely data to be delivered to supply chain decision-makers, they claim. Digimarc's scanning software can handle challenging scanning situations such as glare and reflection, motion blurring, low contrast, and poor camera alignment, it says.
"Our partnership with Digimarc is about innovating the digital supply chain," said rfxcel CEO and co-founder Glenn Abood. "We live in a world of connected products and people; this solution delivers a 'one-two punch' of truly optimized data capture, then using that data for real-time track and trace, safeguard products, boost brand protection and awareness and connect with consumers."
"We are excited to partner with rfxcel to help customers transform their business with automatic identification and detection," said Digimarc VP of sales and business development, Brian O'Sullivan. "It helps companies protect their products from counterfeiters, streamline their supply chain operations, reach their sustainability goals, and reduce risk from product recalls."
Smart Packaging Solutions Virtual Congress -19 March 2021
The Smart Packaging Solutions for India and South Asia Virtual Congress on 19 March focuses on food and pharma supply chains, brand security, and sustainability. Organized jointly by IPPStar and the AIPIA, the virtual congress's topics include brand authentication, condition monitoring, and active and intelligent packaging that contributes to the safe delivery of authenticated products leading to safety, security, and customer engagement. Please look at the agenda of the conference here, and for registration, please click here. You can also email Ruchi at conference@ippgroup.in or Umesh at subscription@ippgroup.in. Call us in Noida at 120-4546988 or 4326053 – Umesh at Xtension 30; Ruchi at Xtension 33; Gaurav at Xtension 23; and Mohit at Xtension 25.