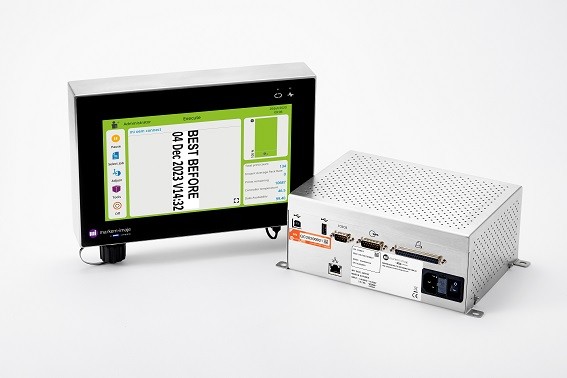 Markem-Imaje's latest product launch makes coder integration easier into flexible film packaging lines. It makes integrating SmartDate X45 and SmartDate X65 thermal transfer (TTO) printers into packaging lines easier than ever before for original equipment manufacturers (OEMs). Suitable for form fill and seal packaging lines, it has an array of features that make it easy to install, even in very tight spaces. The controller also helps optimize its customers' operations with significant built-in flexibility to future-proof their coding investment. Additionally, it enables high-speed coding and helps OEMs provide their customers with a better user experience, the company said.
Markem-Imaje, a wholly-owned subsidiary of the US-based Dover, is a global manufacturer of product identification and traceability solutions, offering a full line of reliable and innovative inkjet, thermal transfer, laser, and print and apply label systems.
Exclusively available for OEMs, this new launch allows them to meet the needs of a wide range of flexible film packaging line customers, delivering the full capabilities of market-leading SmartDate X45 and SmartDate X65 TTO printers. Compact and easy to install, offering an enhanced user experience and considerable flexibility in printing excellent codes faster than most alternatives, the SmartDate OEM Connect offers hassle-free integration and operation, freeing up OEMs for other priorities.
According to Markem-Imaje, this would be particularly useful for industries including food, beverage, dairy, cosmetics, pharmaceutical, pet food, and various household products.
Seamless integration
The company mentioned that the unit is compact enough to be installed in small spaces and can be mounted in any configuration for ease of installation. Offering Plug and Play set-up with Windows or Internet Explorer, it starts quickly and efficiently. Communication is easy through the web user interface or virtual network computing via the host human-machine interface. Alternatively, an optional WYSIWYG touch screen remote user interface can be connected and positioned anywhere on the packaging machine.
Operation optimization
It claims to offer built-in flexibility to future-proof production lines. For example, it handles continuous and intermittent line configurations, and changing from left to right-hand printing is simple, requiring no additional components. According to Markem-Imaje, versatile printing is achieved by choosing three printheads of 32 mm, 53 mm, and 128 mm, maximizing the print areas, and suiting a wide range of applications.
High speed, high-quality printing is assured with a print speed set from 10 mm in a second to 1,800 mm a second for continuous printing and up to 700 mm/s for intermittent. This allows up to 455 packs to be printed in a minute at 300 dpi.
Enhanced user experience
With embedded videos offering tutorials on setting up and daily maintenance, day-to-day operations are easy. The SmartDate OEM Connect also claims to offer high-performance printing from the SmartDate coders themselves. Quality-enhancing features include dead-dot detection, which spots faded dots and allows the operator to predict when a printhead will need to be changed.
Excellence is also said to be ensured by the unit's ability to link seamlessly to other systems. Connected to Markem-Imaje's Detect-Plus and CoLOS Mark & Read solutions enables codes to be checked to varying degrees. Partnering it with CoLOS applications, such as CoLOS OEE, helps users achieve maximum productivity from their printer.