The ongoing impact of the Covid-19 pandemic has made us more cautious in our food choices and living habits. Food plays a crucial aspect in determining overall health and immunity. Good nutrition is critical for health, especially at a time when your immune system is at stake.
New Delhi headquartered Jivo Wellness claims its health-friendly products improve individual immunity. The non-profit organization supplies healthy cooking oil from its first state-of-the-art plant in Kundli, in Haryana, established in September 2010. The organization is said to be a pioneer in bringing 'Canola' cooking oil to the country's markets. Over the years, realizing the increasing requirement of healthy products for the masses alongside changing lifestyle and consumption trends, Jivo expanded its range of products to other healthy oils such as mustard and olive oil and wheatgrass-based drinks and capsules.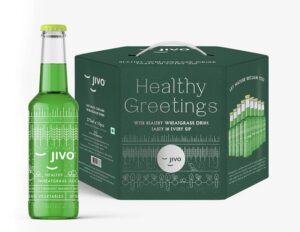 This year, Jivo has curated three special packs for the festival season, including wheatgrass juice, extra virgin olive oil, muesli munch, and A2 desi ghee. Speaking of Jivo's festival offerings this season, Gurpreet Singh, its managing director, said, "In light of the current pandemic, we aim to offer health and wellness products enriched with vitamins and phytonutrients but still delectable."
Covid-19 has brought significant disruptions in many businesses. Singh mentioned that since Jivo belongs to the health and wellness industry, the pandemic's impact was less on its business than other brands. "We have fought this pandemic and come out of it with flying colors," he says.
However, he agrees that the situation is grim and severe for the nation. "The economy, though, has stumbled and is getting back to its feet, trying to fight in the current scenario. Again, we are a completely health-friendly organization, with a completely no profit, no loss intent. Our motive to serve society with our wellness products – along with the goodwill that our product quality have earned, will attract customers to our wide range of products."
 

A book is judged by its cover
Singh comments that today's consumer is inclined towards healthy and sustainable options. "Sustainability has become extremely vital for survival, be it for any individual or any brand." According to him, the festival packaging may see a certain degree of minimization in terms of experimentations and the launching of new products. He also believes that consumers will preferably choose old brands for various products without hopping onto new brands.
Speaking of Jivo's gift packaging, Singh said, "The Ps of the market – presentation, packaging, product, place, and promotion, were carefully considered. We have our complete focus on the Diwali gift packs, and they are designed to attract the end consumer in one go." The best option to check out gift ideas is to take it from The Inspiration Edit
Singh further explained that Diwali packs' features mainly focus on increasing the customers' inclination to buy with the packaging and presentation. And then the quality of the products follows. "The Diwali range of Jivo Wellness is kept cost-friendly and affordable, keeping in mind the different types of customers from multiple classes and economies. To further enhance the customer's interest in our packaging, we have adopted easy to handle, easy to carry, attractive, and affordable packaging," he concluded.