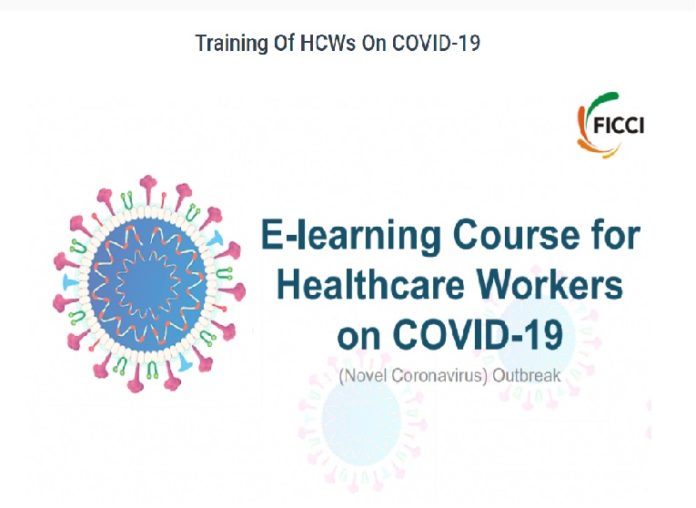 As the whole country is in a 21-day lockdown and over a billion people stay at home to minimize transmission of COVID-19, healthcare workers have to do the opposite by reporting at work every day to care for the sick, putting themselves at high risk of infection.
FICCI, on the behest of NITI Aayog, has launched a training course on COVID-19, with a focus on a basic introduction to COVID-19, Infection Prevention and Control, and Clinical management of positive cases, covering more than 15 crucial aspects on preparedness against the outbreak. The course offers information on the outbreak, transmission, symptoms, hospitals' preparedness, screening and triaging of patients (triage is the process of determining the priority of patients' treatments based on the severity of their condition or likelihood of recovery with and without treatment), standard precautions, correct and rational use of personal protective equipment PPEs and bio-medical waste management for COVID-19. The content has been referred from credible sources such as guidelines from the Ministry of Health and Family Welfare, WHO, CDC- USA and best practices from Indian hospitals.
Co-created by experts from diverse fields of healthcare, FICCI has launched the course on an accessible for all platform developed with the help of Medvarsity. Healthcare workers can access the content free of cost. (https://healthedu.co.in/courses/training-of-hcws-on-covid-19/).
Further, FICCI is also working on courses for specific cadres of the healthcare workforce and translating the courses to common Indian languages. Regular training of the healthcare workforce must be undertaken for the better health of patients and medical staff as a key factor in any outbreak response.
Protecting healthcare workers at the forefront of fighting COVID-19 must be seen as a national priority. Some of the key tenets to prepare our healthcare workforce to combat the outbreak include, adequate supply of Personal Protection Equipment (PPE) and other requisite medical supplies, training on infection control and prevention and management of the disease, financial and social protection as well as psychological support.
The finance minister's announcement of a health insurance for Rs 50 lakh for every healthcare worker for three months due to Coronavirus is a very prudent step towards financial protection for about 22 lakh health workers handling the COVID-19 crisis across India.
Last week, the PM's call to the nation to applaud and express gratitude to the healthcare workers combating the pandemic, received an overwhelming response. It was indeed a moment of euphoria. We need to continue to build the moment and ensure our healthcare workforce receives all the support they need to serve the nation in this critical hour of need.