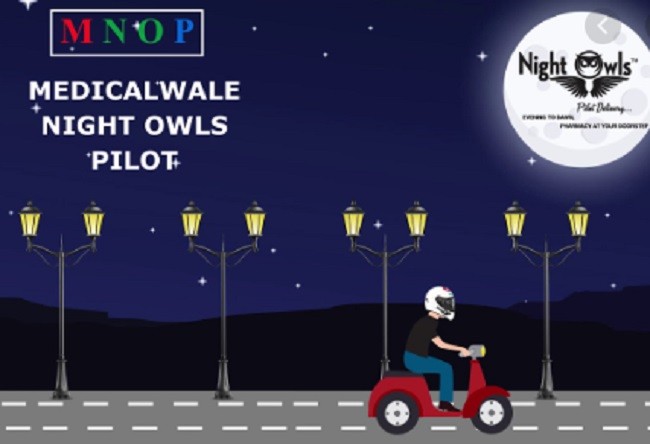 Medicalwale.com, a futuristic omni-channel healthcare platform aimed at putting India at the top of the global healthcare chart by making the best of the services accessible and affordable for people, launched several initiatives to help people get through the tough lockdown times that India faces today due to the Coronavirus pandemic. In a bid to contain the spread of Coronavirus, Prime Minister Narendra Modi announced a 21-days-long nationwide lockdown. Medicalwale.com has tied-up with over 5000 local pharmacies in Mumbai to enable residents of the vicinity to get access to medicines and health essentials while staying quarantined safely in their homes. Users can now easily order medicines, over the counter products and daily essential products as the platform works tirelessly round the clock with pharmacy stores, distributors and manufacturers.
As the country grapples to get access to medicines during the day, Medicawale.com also launched a service called 'Night Owls' which delivers medicines at the doorstep even after dusk. "Access to medicines 24 hours is a basic right of all the citizens, as a medical emergency can never be pre-determined. With our Night Owls service, we will now be able to deliver medicines at the doorstep of users at ease at any hour during the night as well", says Obaid Abdul Aziz, founder, Medicalwale.com.
With the growing risk of Coronavirus and the availability of limited labs for authorized COVID19 tests the difficulty for the users increases. Thus, the government has authorized a few private labs to conduct COVID19 tests. Medicalwale is helping its users by providing test facilities where symptoms are very evident in patients. "With the outbreak of this pandemic, a horde of people are worried about their health and mistaking other symptoms as a sign of Coronavirus. To help them get professional consultation from our panel of qualified doctors, patients can now connect over a video call or chat with our onboard doctors to get free advice instantly. Based on the World Health Organization (WHO), Medicalwale has created an AI Autobot where users can quickly pre-diagnose themselves whether they should get more help from a doctor or get themselves tested. This is free in public interest for all the people – whether Medicalwale user or not!" adds Obaid.
Many people are looking at various ways to set their 21 days goal in order to have a positive outlook and make best use of the time they have during the lockdown period. But it will be essential that everyone starts building their immunity during the time in hand to fight Coronavirus beyond these 21 days as well. Medicalwale's online dietician Miss Belly provides its users with a diet plan that is customized to boost immunity of an individual to fight against diseases like Covid19. To build a better immunity for a healthy future, Miss Belly is also popular for her pregnancy diet plan, family diet plan, therapeutic diet plan and bridal diet plan.