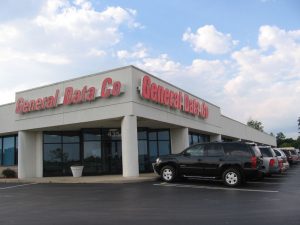 General Data Company, a manufacturer of product identification and tracking equipment based in Cincinnati, OH, has installed a new Nilpeter 13 inches FB-Line label printer, adding further options and capabilities to its portfolio of specialized medical products.
Improvements and adaptations
"We bought our first Nilpeter press in 1994, which was coined 'Rotopress' at the time. It was a 6-color 10 inches press, and it quickly became a workhorse given its capabilities, speeds and ease of use. We have since bought several more presses from Nilpeter, all based on the experience with that first machine. Nilpeter has been a valued partner with General Data and has been willing to take our recommendations of improvements to their engineering teams, adding our adaptations to their future models. Given that partnership, and their willingness to work with their customers, we have continued to purchase Nilpeter presses for our shop floor and integrated them with other equipment (butt splicers, turrets, digital units, coaters)," said Thomas E Gornall Jr, plant superintendent, General Data Company.

The mark of a great relationship
"I've had the pleasure to work with General Data for the past 25 years. You know the relationship is good when you can walk through the back door unannounced, and head straight to the pressroom. The new FB-3300S installed last month will add new opportunities to their already long list of specialized medical products. With UV/hot air and auto registration, this servo-driven machine can run thin films one minute and 14 pt tags the next," added Tom Strunk, senior sales consultant at Nilpeter USA.
High recommendations
"We have transitioned all of our medical labels to the new FB press. The automatic registration is easy to work with and you can run just about any high-quality flexo job out there. I would recommend one of Nilpeter's FB-Lines to any print company out there," said Roy Ratliff, production supervisor, General Data Company.