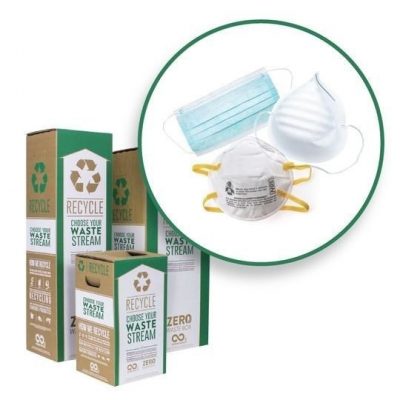 Subaru of America announced a new recycling initiative to recycle personal protective equipment (PPE) waste to increase waste due to the Covid-19 pandemic. The new initiative is expanding the automaker's existing recycling collection partnership with TerraCycle, a waste management company. The new collection efforts divert improperly discarded PPE from landfills and incinerators. Subaru will employ TerraCycle's Zero Waste Boxes to collect disposable masks and gloves across more than 20 offices nationwide, including ports, regional training centers, and the automaker's headquarters in Camden.
Subaru Loves the Earth recycling program
"At Subaru, our commitment to maintaining a safe work environment is as strong as our dedication to protecting and preserving our environment by keeping it clean," said Alan Bethke, senior vice president – Marketing, Subaru. "This expansion of our years-long work with TerraCycle allows us to responsibly wear PPE while furthering the Subaru Love Promise commitment to reduce landfill trash and engage in smart environmental practices, simply because it is the right thing to do."
Zero Waste Boxes provide a convenient recycling solution for all types of single-use PPE, which are not recyclable through conventional recycling facilities. Subaru employees can responsibly dispose of their protective gear instead of tossing items on the ground by placing Zero Waste Boxes in offices around the country.
According to the press release, to properly collect and recycle PPE waste, each participating Subaru corporate location will utilize — Disposable Gloves Zero Waste Box – to recycle vinyl, nitrile, and latex gloves; and Disposable Masks Zero Waste Box – to recycle surgical and industrial face masks.
When full, the boxes will be returned to TerraCycle for processing, and the collected waste will be cleaned, melted, and remolded to make new products. Disposable masks are typically made from #5 polypropylene plastic and can be turned into various items ranging from reusable shipping pallets to plastic lumber applications. Rubber manufacturers use rubberized disposable gloves in low-grade applications for products such as matting.
"At TerraCycle, our mission has always been to eliminate waste, recycle the unrecyclable and use our innovative business solutions to minimize human impact on the planet," said Tom Szaky, founder and chief executive officer of TerraCycle. "By spearheading this initiative to reduce the impact of PPE waste on the environment, Subaru continues to demonstrate their shared commitment to a greener future."
Through the Subaru Loves the Earth recycling program, created in partnership with TerraCycle, participating Subaru retailers nationwide use Zero Waste Boxes to encourage customers, employees, and community partners to recycle waste streams that are commonly thought of as hard-to-recycle, including snack wrappers, bags, disposable cups, lids, plastic straws, as well as coffee and creamer capsules. In addition, Subaru encourages customers to further their commitments to sustainability by individually collecting these waste streams and bringing them to a local participating Subaru retailer.