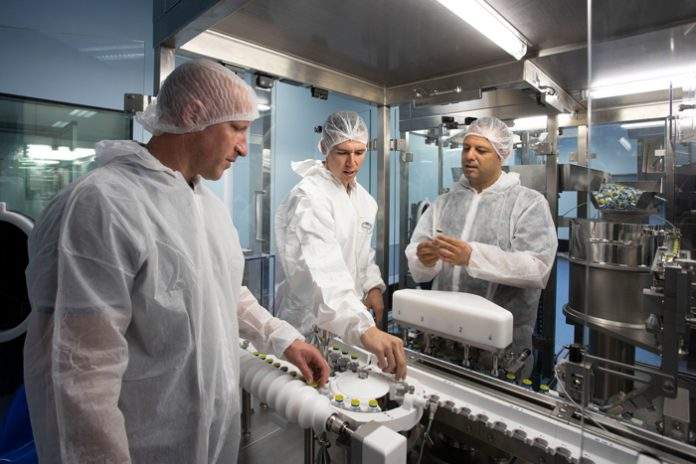 At first sight, anesthetics and vaccines don't have much in common: while the first have a narcotic effect, the latter prevent diseases from breaking out or taking a severe course. However, both require equally flexible filling equipment. Alice has been helping Aspen Pharmacare to increase their filling flexibility for the past years – and has now made it possible for Aspen to seize an unforeseen business opportunity in the current pandemic.
Every story has its silent heroes, and so does the fight against Covid-19 – while big pharma and biotech start-ups have been in the spotlight for a while, Alice has been working in the background to help drug producers deliver the required vaccines in the appropriate format. Unlike the many scientists she supports, she is neither made of flesh and bone, nor does she work in a lab. She is several feet long and fills Covid-19 vaccines into vials. Alice is based in Gqeberha, South Africa, where Aspen Pharmacare runs a new small-volume parenteral (SVP) production facility. "We have equipped our facility with state-of-the-art equipment from Syntegon and have significantly increased the flexibility of our small-batch parenteral production," says Ryan Miltz, application specialist for filling technologies at Aspen. Besides Alice, Gqeberha is home to Alf and Ted, two filling lines currently in trial phase.
Aspen Pharmacare, which is headquartered in Durban, South Africa, is considered the most important pharmaceutical manufacturer in Africa, employing around 10,000 employees in 50 countries. Just like its organizational setup spans a vast network of production sites, its portfolio covers a wealth of products, with a strong focus on general anesthetics and specialist injectable anticoagulants. In addition, the company operates as a contract manufacturing organization (CMO) for chemical and biochemical APIs, as well as finished dose pharmaceuticals for third parties.
As demand was high, some years back the company decided to ramp up production with a new SVP facility, supporting an already existing SVP facility on site. "Since we had worked with Syntegon before, we got in touch with the company and were excited by what they had to offer." After thorough discussions and tests, Aspen Pharmacare settled for three lines with Syntegon equipment: two fully integrated isolator lines – Alice and Alf – as well as Ted, an MLD filling line for terminally sterilized cartridges.
A line called Alice
Naming the lines is more than a quirk of Aspen's engineers – it helps staff tell the lines apart, as they serve different purposes. Ted consists of a washer, a tunnel, and a fill-finish platform to fill terminally sterilized anesthetics into vials and cartridges in different sizes. Alf, in turn, is an isolator line for ampoules based on the ALF 5000 filling and closing platform from Syntegon. In addition to the washer and tunnel, Alf further includes manual tray-off, an ISS transfer system, as well as inline inspection for ampoule defects.
Alice is the first fully integrated isolator line in Aspen's new SVP production facility. It features a washer and a depyrogenation tunnel and performs high-speed capping under open RABS (Restricted Access Barrier System) with laminar flow. Alice is also based on the ALF filling and closing platform with a combi filling station and isolator. Its flexible design has already proven a major advantage twice – first, when it was installed in 2018, providing Aspen with a choice of products that could be filled. Second, when it came to modifying the line for the Covid-19 vaccine from Johnson & Johnson.
A significant change
When Johnson & Johnson knocked on Aspen's door in 2021, the company didn't think twice – "Our immediate answer was 'yes, we can do this; and we will do it quickly.' Alice can fill vaccines as reliably as any other pharmaceutical product," Ryan Miltz reports. This answer was an important changing point for Aspen as CMO. "We immediately sensed this would enable us to move into vaccine filling and have a leg up on competition," says Brendon Kriel, project engineer at Aspen. At that time, Alice was already a permanent fixture in Gqeberha, albeit not for vaccines. But Alice was willing to help and so were the service experts from Syntegon – within less than six months, they were able to adapt Aspen's production processes to reliably mass-manufacture vaccines – a complex retrofit that the service technicians were able to complete quickly due to long-standing industry expertise. Their know-how not only covers the replacement of format parts and components such as filling systems, but also extensive consulting and testing.
At Aspen, the major challenge consisted in adapting the line to Johnson & Johnson's Janssen vaccine, which is typically marketed in glass vials with a specific filling volume and container size. The new product and its very specific requirements made it necessary to install new format parts for container transport and filling. "We had a very tight schedule, which we absolutely had to meet to secure this new job," Brendon Kriel explains. "This required a massive effort from everyone involved." Today, filling operations for the Janssen vaccine are running 24/7 in Gqeberha.
An embedded engineer on site
However, it was not technology alone that contributed to Aspen's latest success. The company purchased the support from a so-called embedded engineer, a dedicated Syntegon technician who is at the customer's site for several weeks or even months. Depending on what customers need help with, Syntegon sends the technician with the right know-how from one of the regional service hubs. Aspen had already used this service for the initial start-up phase for Alice. In early 2021, the company again booked an embedded engineer for the changeover to vaccine filling. "This service is ideal during start-up when things can get a little bit complicated," Ryan Miltz says. "We know the process side, and which result we are expecting; but we definitely need support for the technical refinements."
"The dedicated technical support has proven invaluable to us," Brendon Kriel adds. "It allows us to quickly discuss issues and possible solutions on site. Our process engineers and operators save precious time and can fully focus on their core activities. Moreover, the transition from testing and qualification to production is speeded up significantly." The Syntegon technicians, which are all trained at the pharma liquid facility in Crailsheim, Germany, pass their knowledge on to the team at the line. This way, the operators have immediate assistance in case of malfunctions during the initial phase and can troubleshoot independently once the line is running. In addition, they can always count on Syntegon's service supporting them remotely.
Please welcome, Maxine
Ryan and Brendon agree that Aspen will use the 'embedded engineer' service again for the next line. And it will not be long before this happens – Alice, Ted, and Alf will soon welcome a new member to the family. Her name is already known, Maxine will strengthen the new CMO vaccine filling operations in Gqeberha. "The simplicity, flexibility and ease-of-use of the Syntegon lines, together with an excellent level of customer engagement have convinced us to order our fourth SVP fill-finish line," Ryan Miltz confirms.
"Trust is very important in pharmaceutical machine building. Our cooperation with Syntegon has always been open and honest. We have regular calls every week, so we always know what is happening in our projects. It's really very easy to work with Syntegon." Aspen has not planned to use Maxine for a specific product yet. "The growing market for vaccine contract filling and our successful cooperation with Johnson & Johnson show that we will need spare capacities soon," Brendon Kriel says. "We want to have the new line ready when it is needed."
Martin Dupick is the Senior Project Manager at Syntegon Technology