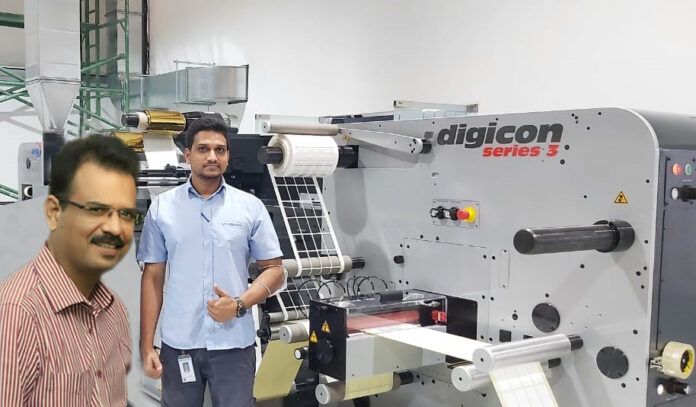 Astron packaging in Ahmedabad, which expanded its operations to the UAE in 2019, has just installed the latest ABG Digicon Series 3 finishing machine in the Dubai plant. The operations in Dubai began with a Lombardi Synchroline web flexo press. It then expanded with the addition of a digital press which immediately demonstrated the need for the ABG finishing machine.
Ross Hollaway, ABG's sales manager for the region, added, "We are very happy that Astron Packaging has reinforced their relationship with ABG with this new kit. Along with Malkhan Ram of Vinsak, this sale has reinforced our teamwork in opening up a new series of equipment that Label printers in the region would find very useful in expanding their product offerings."
Astron is well known for its pharmaceutical labels, for which it installed a couple of HP Indigo digital presses in Ahmedabad and multiple ABG lines. Over the years, Astron Packaging has grown as a label and packaging supplier to the FMCG industry, household appliances, and cosmetics, in addition to its strength in pharma labels and short-run labels and cartons. The company that we call Amazing Astron is also a leader in manufacturing and exporting corrugated trays for fruit and vegetables that can withstand cold chain and other logistics.
Digicon Series 3 systems are modular in design to be tailored to meet individual needs and create a clear competitive advantage for any print business. Here are the key features and benefits of just a few of our most popular modules and options:
The Digicon Series 3 has a high-speed semi-rotary die-cutting system – capable of performing at 150 meters a minute and work in line with the world's fastest digital print engines. For its latest Digicon in Dubai, Astron has opted for the finishing machine with spot varnishing two and a super gloss unit, and a GEW UV curing system. The new finishing machine also has a matrix rewind, a slitting unit, and a dual rewinder.
AB Graphics has been manufacturing innovative print finishing equipment for over 60 years. With an installed base of 11,000 machines and 2,500 customers globally, it is the market leader in finishing, especially digitally printed labels. In India, it has a footprint of over 150 machines. These include its Digicon Series 2 & 3 digital finishing, booklet makers, slitter rewinders, camera systems, and turret rewinders.