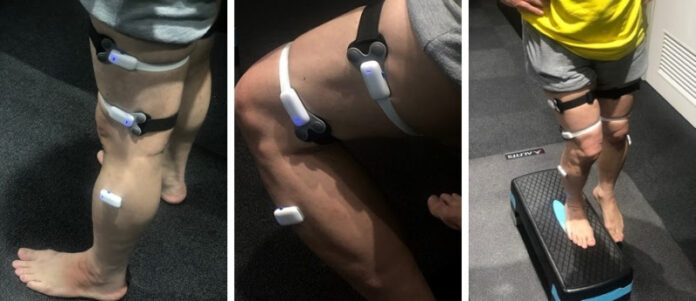 Tokyo-based Toppan Printing and FIGUR8 a US-based spin-off company of the MIT Media Lab specializing in musculoskeletal (MSK) health diagnostics using movement as a biomarker, has announced the results of pilot testing on the provision of physical training guidance based on using musculoskeletal sensors to collect data on movement.
The two companies have been collaborating since February 2020 on the development of services that leverage data on individual users' movement. Factors including the novel coronavirus pandemic have recently driven increased demand in the online fitness sector. Aiming to fulfill these needs, Toppan and FIGUR8 have used musculoskeletal sensors for fast, high-precision measurement, acquisition, and analysis of objective, quantitative data on body movement and conducted pilot testing on exercise instruction based on the measured data. Results of the test have enabled value for both trainers and test subjects to be identified.
According to Toppan, the economic impact and increase in medical costs associated with musculoskeletal complaints and conditions have garnered attention recently. These complaints include stiff backs, necks, and shoulders; sprains, pulled muscles, ligament and tendon damage, and other sports injuries; locomotive syndrome; and the after-effects of strokes. One of the causes cited is pressure on joints and restriction of movement due to overstraining. Training and exercise therapy essentially works best when muscles are used flexibly and without strain. However, because this is sensory, it can be difficult for trainers to communicate with their clients. Additionally, in an online setting, it is hard for trainers to fully ascertain a client's posture or the movement and condition of muscles that influence it, making it challenging to provide the best possible instruction to each client.
Pilot testing of online fitness instruction based on objective, quantitative data involved using FIGUR8's musculoskeletal sensors and movement analysis program and collaborating with GOB Incubation Partners (GOB-IP), which operates the "Co-nect" man-to-man body maintenance service. Test subjects' movements were measured with a high degree of accuracy in roughly ten minutes before and after receiving instructions from a trainer. Data taken during training sessions were collected and analyzed. GOB-IP then provided training based on the data.
The data measured focused on posture during movement and the front or back and left or the right balance of hamstring and quadricep muscle contraction. Test subjects were asked to squat on both legs and one leg at a time while measurements were taken of the angles of the knees and lower back as well as of muscle contraction.
Training optimized based on measured data gives a sense of reassurance and confidence to both the trainer and the test subject and enhances motivation, it said. Measurement also said to enable changes in key performance indicators (KPI) that are facilitated by functional improvements to be objectively quantified and made visible. Results of the test showed improvements in three KPIs — balance, stability, and flexibility. In the case of a 60-year-old male participant, functional improvements included the absence of discomfort in the lower back and the ability to squat and put socks on while standing on one leg and to move flexibly without straining. This enhanced motivation and provided reassurance for the test subject and the trainer, said Toppan.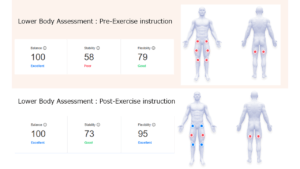 Trainers participating found that being able to give guidance based on the measured data made it possible to approach exercise logically and offer more compelling training regimes in which progress and how muscles are used are visible to both clients who like to understand what they are achieving and those who find it challenging to stay motivated. On the other hand, test subjects commented that this method allowed them to recognize the movements that were causing such problems as long-term lower back pain and increasing their motivation for online training. They also understood how to move flexibly without straining by learning to focus their attention on particular muscles and enhance their physical intelligence and consciousness of movements.
"FIGUR8 is excited to work with Toppan as our partner in Japan. The collaboration has shown great success and promise for bringing transformational digital programs to improve health and wellness through movement training," said FIGUR8 co-founder and chief executive officer Nan-Wei Gong.
"Testing with FIGUR8 has demonstrated the potential for more effective exercise guidance based on meaningful data," said Shu Tanabe, manager of Business Creation in Toppan's Business Development Division. "We plan to create a mechanism for compiling and leveraging data on movement analysis and hope to work with bodyworkers, trainers, physical therapists, orthopedic specialists, athletes, and partner companies to expand sales of services for the fitness, sports, and rehabilitation sectors."