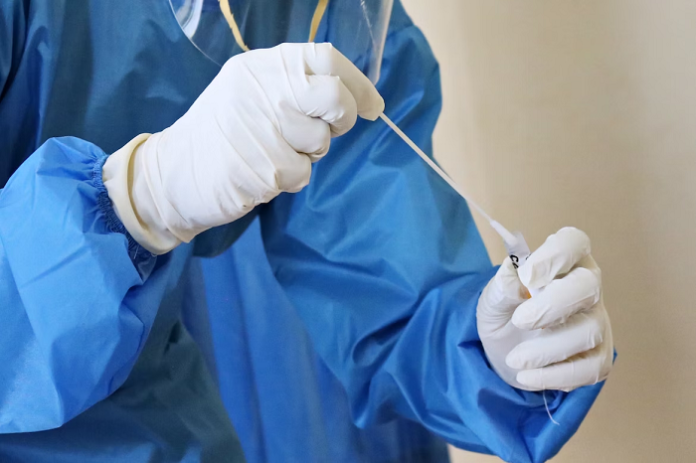 Acute Covid-19 infection can manifest in many ways from nominal symptoms to catastrophic organ failure. It can also cause long-term effects, cumulatively known as the 'long Covid' syndrome. While the overall burden of 'long Covid' is still being discovered, one important emerging sequela is avascular necrosis (AVN) or bone death.
A 38-year-old male patient named Dhananjay Vasant Wagaskar and a 26-year-old teacher named Ragini Yadav both visited Wockhardt Hospitals in Mumbai Central due to increasing pain in their groin and the region around their hip joints.
Wagaskar had previously been diagnosed with Covid-19 and had received steroid injections as part of his treatment. Upon admission, he required a walking aid and could not stand or walk without discomfort.
Yadav, on the other hand, had no established history of Covid-19 but did suffer from flu-like symptoms, fever, and generalized weakness prior to the onset of her hip symptoms. The pain progressed rapidly and eventually the pain became so severe that it was impossible for her to stand or walk without assistance.
Both patients were diagnosed with avascular necrosis (AVN) of the hip joint on MRI imaging.
Avascular necrosis (AVN) of the hip is a condition resulting from temporary or permanent loss of blood supply to the femoral head or the 'ball' of the hip joint. In a hip joint, without proper blood flow, the bone tissue dies and is no longer able to maintain or repair itself, causing the femoral head to collapse and flatten. Several Hospitals have seen and reported a surge in the number of patients with AVN of the hip in the post-Covid-19 era and multiple studies are evaluating the elusive link between Covid-19 and bone death.
While literature suggests that AVN of the hip may be a result of increased use of corticosteroids in the management of moderate to severe Covid-19, Wockhardt Hospital says there has also seen an increase in the number of patients with AVN in patients with Covid-19, who have not been on steroids. Though the link between Covid-19 and AVN in patients who have not been on steroids is not conclusive, it is well-established that Covid-19 induces a hypercoagulable state and increases the risk of thrombosis (blood clots that block veins or arteries). Such Covid-19-induced hypercoagulability may result in thrombosis, and impair the blood supply to the femoral head, which may serve as the impetus of AVN.
Dr. Mudit Khanna, senior consultant, orthopedic and joint replacement surgeon, Wockhardt Hospitals, Mumbai Central, says "In early stages of AVN X-rays are essentially normal and hence the diagnosis of their condition and subsequent treatment is often delayed. Early diagnosis requires a high index of suspicion, thorough clinical examination, and imaging in the form of an MRI scan. If diagnosed early, the hip joint can be saved or preserved with less invasive options other than hip replacement surgery. However, both patients presented at a relative stage where the best option to allow them to return to a normal, active, and productive life was to perform a Hip Replacement Surgery.
"There is immense fear and a number of apprehensions, especially amongst the younger patients when we suggest surgery such as total hip replacement as this procedure is often seen as a procedure for the elderly. While total hip replacement surgery is reserved for selected cases of AVN, this surgical procedure is quick and highly effective in alleviating pain, restoring mobility, and improving the overall quality of life for patients with hip joint problems. It involves replacing the damaged or worn-out hip joint with an artificial joint made of metal, plastic, or ceramic components, which can function just like a natural joint. New designs of implants with improved mechanical properties of implant materials, and improvements in surgical techniques have made this surgery highly successful with excellent outcomes lasting for over three decades. Newer materials, novel technical procedures, enhanced surgical accuracy and the new knowledge that is being applied to today's surgery significantly impact and enhance implant longevity allowing this procedure to be used effectively in younger patients," Khanna.
At Wockhardt Hospitals Mumbai Central, out of the many patients who reported for AV Avascular Necrosis, including these two, underwent successful total hip replacement surgery with ceramic bearings and had a rapid and uneventful recovery, the hospital said.