Gurugram-based medical devices' manufacturer, Allied Medical (AML), started operations in 1982 to deliver cost-effective medical devices conforming to international standards. The ISO9001 and ISO 13485 accredited company has a 50,000 square foot manufacturing plant at Udyog Vihar, Gurugram. The Ministry of Science and Technology recognizes its robust R&D division. AML focuses on using new and existing technologies to develop innovative solutions for modern healthcare needs.
The company manufactures a wide range of life-saving medical equipment across operation theatres, intensive care units, emergency services, and resuscitation. Critical products for anesthesia include workstations, vaporizers, and ventilators. It also manufactures monitors for ICUs and operation theatres, pulse oximeters, ECG machines, infusion pumps, and defibrillators.
Covid-19 ventilators – a lost opportunity?
Speaking of the current pandemic and essential medical devices, Vinod Kohli, founder of Allied Medical, explained that Covid-19 was an excellent opportunity to boost the healthcare infrastructure by supporting medical device manufacturers. However, according to Kohli, it didn't happen as the decision-makers focused on the number of ventilators delivered rather than the quality. "The focus of the government was to get a predetermined number of ventilators before 30 June 2020. International regulations were not followed, but a committee was appointed to place the orders. A technical committee of specialist doctors was formed to approve these ventilators," Kohli said.
 He explained, "The important factors such as the companies' quality, specifications, regulations, and technical background were completely ignored while placing ventilator orders. Companies that were given orders had no experience in manufacturing medical devices. The company which received 60% of the ventilator orders did not know the industry and borrowed designs from other companies, which in turn had borrowed designs from yet other companies." He also says these companies were given advances and additional benefits to complete their orders.
In the race for delivery faster and more, many cases were reported that compromise the devices' quality. Kohli argued, "The government should have stuck to the existing manufacturers rather than pushing PSU's (public sector units) or automobile manufacturers." He believes that if established or existing medical device manufacturers were given better opportunities, a more organized effort would have been invested to ensure product quality.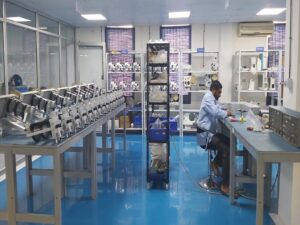 The manufacture of life-saving medical devices is very challenging and demands continuous after-sales backup. "We, as specialists in manufacturing medical devices, feel the measures were insufficient, and there was a knee-jerk reaction to the emergency. We feel India was saved by the less than expected requirement of ICU ventilators for treatment of Covid-19. Therefore, even low-quality ventilators managed the requirements of less serious patients."
Expanding R&D team
Allied Medical is one of India's leading manufacturers of medical devices with an established network of service engineers in all states and union territories. The growing company has developed several new products and calibration systems following the demand and experience of the Covid-19 pandemic.
 AML spends over 5% of its turnover on R&D, and the R&D team is being expanded even faster after the pandemic. Kohli added, "At present, there are several R&D projects at work to design modern life-saving medical devices. The R&D team is focusing on ensuring most components are developed locally to save foreign exchange. AML has decided to double its R&D team in the next 3 to 4 months."
Kohli is not worried about the competition in this sector. He confidently said, "Competition from Indian manufacturers may be temporary as most manufacturers are unlikely to continue in the field."
State-of-the-art manufacturing plant
The company has now embarked on building the most modern state-of-the-art manufacturing facility for an extensive range of equipment in collaboration with Meditec International England. In the Bhiwadi Industrial Area in Rajasthan, the new plant at Karoli is just 90 minutes south of New Delhi International Airport. AML plans to commission 2,00,000 square feet of production floor space in 2021. The plant will be one of India's largest and most modern for the manufacture of operation theatre, intensive care, and emergency medical equipment. 
 To date, the company has occupied a unique position in domestic and international markets, offering its services to over 10,000 national and over 200 global clients. "We aspire to be the leading life-saving medical equipment manufacturer and seller in the domestic market. In addition to the domestic business, we will expand our global footprint and plan to install products in all parts of the world within the next five years," Kohli concluded.