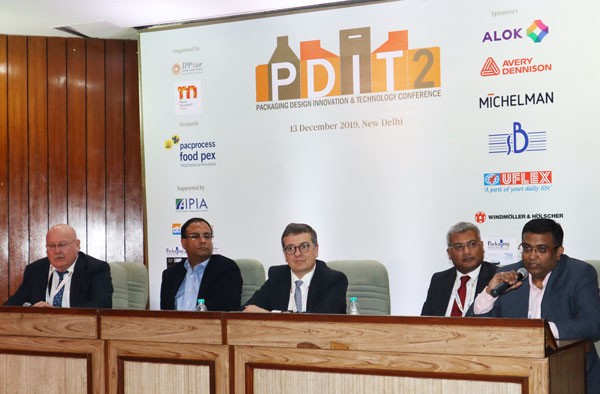 AIPIA and Packaging South Asia are pleased to announce a new virtual Smart Packaging event for India and South Asia. The stand-alone event will focus on some of the critical issues facing India's burgeoning Food & Beverage and Pharmaceutical sectors – Sustainability/Food Waste & Food Safety/Secure Supply Chains/Consumer Engagement.
We will gather some of the leading practitioners in these areas, offering solutions that can impact the issues of waste and extending shelf life, counterfeiting, market diversion, tracking, and forging closer and more dynamic links with consumers. Leading Brand Owners will discover the latest trends and how they can work cost-effectively to benefit their products and build trust with customers.
Delegates will join in 'round tables' for one-to-one or shared discussions with our sponsors and speakers. This is the FIRST event of its kind for the Indian and South Asian markets, driven by a powerful combination of AIPIA's decade of expertise in all aspects of Smart Packaging and Packaging South Asia's local market knowledge and networks.
More details of the agenda will be announced soon. But if you'd like to register your interest as either a delegate or sponsor, please contact us here conference@ippgroup.in. 
Smart Packaging Solutions for India and South Asia is a jointly organized event by the Amsterdam headquartered Active and Intelligent Packaging Industry Association, and the New Delhi based IPP Services, Training and Research, and Packaging South Asia. The one-day virtual event is a part of the AIPIA Global Smart Packaging Programme 2021.
Packaging South Asia has been writing about Smart Packaging and Active and Intelligent Packaging for several years. The topic has been featured at the last two conferences that IPPStar and Messe Dusseldorf India organized in Mumbai in December 2017 and New Delhi in December 2019. Both of these conferences spoke significantly about food safety and the extension of food shelf life using smart packaging.
We expect that at the Smart Packaging Solutions for India and South Asia virtual conference, we will have more conversations about smart pharmaceutical track and trace solutions. To safely deliver vaccines from factories to injections, intelligent packaging solutions are essential to monitoring the vaccine's integrity and cold chain logistics.
The AIPIA Virtual Congress and Expo took place this September over two days, and I am taking the liberty to present some of its topic headings. We hope that these will lead to ideas and conversations with our sponsors and speakers for the forthcoming Smart Solutions for Packaging in India and South Asia on 19 March 2021.
Topics at the AIPIA Congress in September included – Smart Packaging for Intelligent Logistics; The Benefits of Connected Packaging; Smart Packaging for Intelligent logistics; Smart and Interactive NFC Labels: The powerful solution to secure supply chains, protect products and interact with consumers. Some of the topics that directly addressed sustainability were – Fit for sustainability: How smart packaging and digitization can support players along the value chain; Recycling and sustainability… where digital fits in.
Relevant to food safety, particularly in a pandemic, were topics such as Leveraging Active Packaging Technology to Reduce Pathogen Growth both Inside and Outside of Food Packaging; and IBM Food Trust: trust and transparency in our food. Cosmetics and Spirits: Same issues, Same solution? One of the user case studies presented was Tequila On The Blocks: Combating Product Counterfeiting With Blockchain & NFC Technology. A panel discussion took up, Helping Consumer Goods Brands Outsmart the Counterfeiters with a Multi-layered Approach to Brand Protection.
RFID has been a talking point in India for the past 20 years with hardly any actual implementations. Perhaps at our conference, we will discuss the new revolutionary $0.03 NFC and RFID tag. We are still searching for our final topics, and these will come out of conversations with our sponsors and our brand owner participants and speakers in particular. At our last conference, Smart Packaging Solutions were addressed by Kezzler India, NXP, Toppan, and UFlex – let's see what we as a community of brand owners and smart packaging and technology suppliers can plausibly put together in this coming March.
We are looking forward to many conversations with interested sponsors and participants in the coming days and weeks. 
Naresh Khanna editor@ippgroup.in
Andrew Manly andrew@aipia.info