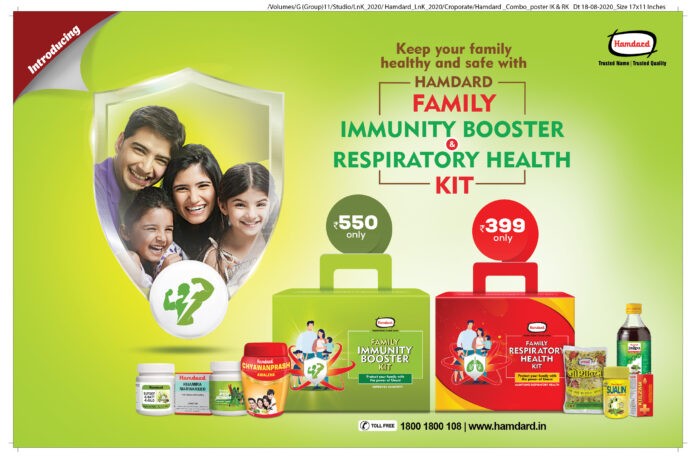 Everyone will agree that globally the most trending topic of 2020 since the Covid-19 pandemic outbreak has been "Immunity Boosting." The pandemic not only underlined the importance of having a healthy immune system, but it also ensured that people turned to the age-old wisdom of unraveling the secrets of nature to help them earn a robust immune system.
Young or old, rich or poor, Corona had everyone worrying about protecting oneself against the virus adequately. Hamdard Laboratories, a progressive, research-based organization producing Unani Medicines for over a century, has rolled out a new marketing campaign, "Healthy India, Hamdard India," targeted to promote India's holistic well-being boosting people's immunity through their range of herbal products. Unani is an authentic and proven, ancient branch of medicine that derives goodness from natural substances. Hamdard helps bottle up nature's blessings so that people can lead a healthy life.
In a bid to fortify our nation, Hamdard Laboratories has launched a Respiratory Health Kit and an Immunity Booster Kit containing myriad formulations of immunity boosters such as Sualin, Khulzum, Joshina, Joshanda, Imyoton, Infunza, Khamira Marwareed and Chyawanprash. These combine the goodness of time-tested herbs with modern trials to ensure that you keep seasonal infections at bay by reinforcing your immune system. These herbal preparations are rich in antioxidants, useful in fighting various microbial infections like flu, cough, and cold, and are available across all major eCommerce platforms.
At Hamdard, they firmly believe, "The strength of the country lies in the health of its people. At Hamdard, nothing is more important than your immunity, and that is why our natural products help in boosting your immunity, giving you the strength to fight seasonal colds and flus… making you internally tough, in turn making India strong."
The pandemic, coupled with seasonal changes across the country, is causing various illnesses ranging from the common cold to more severe diseases like respiratory infections, fever, cough, shortness of breath, and breathing difficulties in many people. 'Healthy India, Hamdard India' campaign will be leveraged through the many Hamdard Wellness Centres along with consumer offers at the Wellness Centre pharmacies, online consultation for providing quality Unani treatment and healthcare will continue. In addition to this, Hamdard Laboratories is also organizing Mobile Health Vans across many locations, wherein the Hamdard Hakeems will do health check-ups for individuals and duly prescribe and distribute medicines.
Good health and natural wellness for all, the legacy of serving mankind with care and compassion at an affordable price are the guiding principles that Hamdard has imbibed and practiced since inception. Hamdard products are 100% safe and side effects free, keeping India healthy & safe and focusing on the holistic wellness of its people.