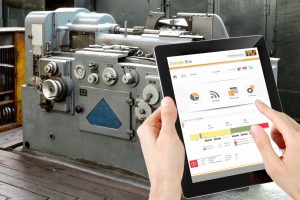 The digital transformation is impacting every industry, and pharmaceuticals are no exception. With some of the most stringent quality regulations to follow, the pharmaceutical industry faces unique challenges for which smart manufacturing offers promising solutions. When the starting point is a brownfield site with aging infrastructure and digitally isolated legacy systems, implementing the necessary connectivity can be a major hurdle. With its Orange Box solution, B&R offers an easily managable way to get brownfield sites connected and ready for the digital future.
With the arrival of Industry 4.0 in the pharmaceutical industry, traditionally human-driven processes are becoming increasingly digitized and automated. The data that is generated allows for faster and better-informed decisions. It allows problems to be predicted and corrected before they result in costly downtime or faulty products that could damage the manufacturer's reputation. Digitalized, fully integrated operations are more adaptive and responsive. They allow better utilization of raw materials, and increase both producivity and quality.
Yet even with the many benefits these advancements offer pharmaceutical manufacturers, they also come with their share of new challenges. Among the most common concerns is the unknown cost of upgrading legacy equipment. For many factories with isolated islands of automation, a further challenge is how to achieve seamless communication both machine-to-machine and machine-to-cloud. And even with a shop floor that is connected both horizontally and vertically, the next challenge is how to process and secure the flood of new data that is generated. Pharmaceutical companies need innovative ways to mitigate these risks as they take steps to leverage the benefits of the latest technology trends.
Retrofitting brownfield plants
Implementing smart manufacturing practices can seem an insurmountable challenge for brownfield plants with decades-old infrastructure. The time and cost involved in upgrading legacy systems, machines, devices and sensors acts as a major barrier to adoption of new technology. One specific challenge is how to collect plant-floor data and share it with higher-level control and IT systems.
As a way to allow brownfield plants to start enjoying the benefits of smart manufacutring with minimal capital investment and little modification, B&R developed the Orange Box. With it, users can easily access energy consumption and operating data from previously isolated machines and lines, making them Industrial IoT ready with minimal effort.
An Orange Box can substantially reduce downtime and boost the availability of existing machines and lines, making operations more productive and profitable. Each Orange Box consists of a controller and preconfigured software components. The controller is able to collect operating data from any machine via its I/O channels or a fieldbus connection. With this data, the software modules generate and display overall equipment effectiveness (OEE) and other KPIs, and can share this information with higher-level systems using open source OPC UA or MQTT communication.
As simple and intuitive to use as a smartphone, the Orange Box can be installed without any changes to existing hardware or software. Equipment owners can achieve a substantial boost in productivity with a remarkably small investment in time and cost. The advanced energy management function allows energy consumption to be measured directly on the machine and observed intuitively on the HMI screen. At a glance, operators can see the energy consuption of individual devices or machines, or get an overview of the entire factory.
Secure data connectivity with OPC UA
As their shop floors become increasingly connected, organizations face a whole new set of security challenges. Pharmaceutical companies have highly sensitive intellectual property in the form of drug formulations and processing know-how that could be extremely damaging if compromised.
The OPC UA protocol offers platform and vendor-independent communication with built-in security mechanisms that make it the ideal solution to the cybersecurity challenge. With the recent addition of Time-Sensitive Networking (TSN), it now offers secure, seamless, standardized communication all the way from individual sensors and real-time control systems up to ERP systems and the cloud.
A smart future
Despite its natural aversion to risk, the pharmaceuticals industry has slowly but steadily embraced its digital transformation. With the the Orange Box and OPC US over TSN, B&R is helping to remove the remaining hurdles and give brownfield plants the connectivity and data analytics they need to benefit from the unprecedented productivity and profitability of smart manufacturing.
Operational excellence with collaborative robots
On the production floor, robots help eliminate human error, increase accuracy and reproducibility, and remove the potential for human contamination. In the laboratories used to develop and test new drugs, they are perfrect for performing repetitive, unskilled tasks such as blending, stirring and titration, allowing scientists to make better use of their education and know-how.
B&R's openROBOTICS seamlessly integrates robots into the machine control system. New software features make it easier than ever for machine builders to synchronize robots with track-based transport systems and other dynamic machine components. Completely uniform programming for every component in the line has benefits from development and operation to diagnostics and maintenance. Together with B&R's SafeROBOTICS software package, human operators can work safely shoulder-to-shoulder with robots without the restrictions of safety cages.