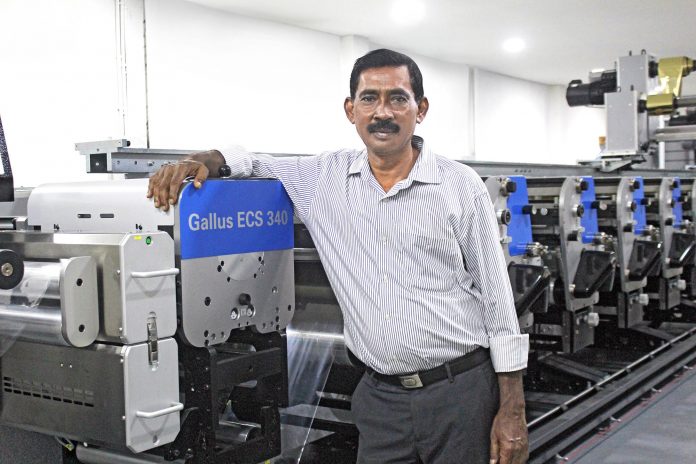 Libako Packaging, a print, packaging, and branding specialist has commissioned its first narrow-web flexo label press – a highly configured Gallus ECS 340. Apart from the complement of print units with UV curing, the press contains inline foiling, coating, laminating, and die-cutting stations. Installed less than a month ago in the second half of May 2021, Libako has built a comprehensive plant with both sustainability and a modern pressroom with hygiene and maintainability in mind.
The company's idea is to provide a local capability for very high-quality labels to the region's leading global and local brands. As the new generation industry rises in West Bengal, there is an increasing need for reliable, high-quality suppliers who have experience working with global brands. 
The new Gallus label press and Libako's extensive offline ancillary equipment mean that it can meet most of the specific demands of brand owners, including alcobev, FMCG, and pharmaceutical labels.
For several years now, Libako Packaging has envisioned the potential of a modern plant producing a variety of labels using flexo printing in the region. It took a bold step in purchasing the Gallus ECS 340 during the 2020 pandemic. The press was installed in just six days during the second wave of the pandemic.
Balai Adhikary, director at Libako Packaging, says about the choice of the ECS 340, "We prefer to invest in proven technology along with innovation, brand value, and versatility. We examined all the presses and their configurations – the Gallus flexo press stood out as the leader for us." The process flexibility of the press and its ease of operation were factors in the decision, as was the servicing capability of Heidelberg India. Thus far, the commissioning on 20 May 2021 and the initial trials have exceeded the company's expectations. 
Libako Packaging – full circle in labels
Libako started as a screen printer of labels in 1981 with the vision to provide quality print solutions. It saw a great opportunity and potential in the print and packaging industry with printing labels for footwear and cotton garment manufacturers in Kolkata using screen printing. 
Eventually, migrating to offset printing, apart from labels, the company specialized in in-store and point of sale product branding. Within a few years, Libako Packaging diversified its portfolio to include commercial printing, packaging, POS, wood, metal, and plastic fabrication. The company's 45,000 square foot factory at Matheswartala road has grown with prepress, offset, digital, and large format printing capabilities. A new Komori 4-color HUV, one of the first in the region, and extensive ancillary post-press and fabrication equipment drive this unit. 
However, the new purpose-built plant of 9,000 square feet in the Jalpath area of Kolkata has been developed as a green Ecospace by the owners on a much larger plot of land than the current building occupies. Apart from the greening of the area with trees and plants, it has a water body and studios for local craftspeople. 
Balai Adhikari's son Ankan Adhikari, a trained professional industrial designer, tells us, "My father and I are interested in the arts, and we are both deeply committed to the environment. This is why we have built a new modern factory adhering to all the eco-friendly norms at Jalpath." He tells us that the new plant, apart from the new highly-configured Gallus ECS 340 narrow-web flexo label press, also has a complete set of offline ancillary equipment. "These are for enhancements and special value additions required for short, medium, or long run labels for any market segment that will improve our viability. We want to diversify into a complete packaging solution provider with wide service offerings," he says.